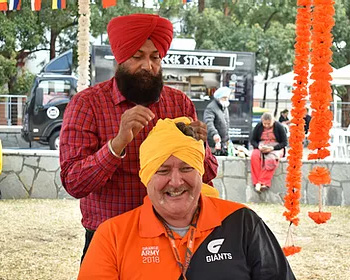 march 28
Airport journeys can be stressful for anyone. But walking through airport security as a bearded and turbaned Sikh can be an ordeal. When you're always selected for random security checks, they don't seem so random after all – especially when you're the only one pulled aside while traveling with others not wearing turbans. These security checks usually only take an extra ten to fifteen minutes, but their psychological impact far outlasts this brief encounter, particularly when security staff leaves you feeling belittled and disrespected.
Being disproportionately targeted by airport security is one of the many forms of indirect racism Sikhs face that makes us feel unwelcome. But if awareness of different faiths is included in security training – and awareness about Sikhs is spread more broadly – this unfair treatment could become a thing of the past.
march 26
Amar volunteered at the Commonwealth Games at Gold Coast to ensure smooth running of the wrestling events and attend to the needs of the participating contingent and their support staff. He also helped in organizing a cultural performance to entertain the participants and officials from across the globe.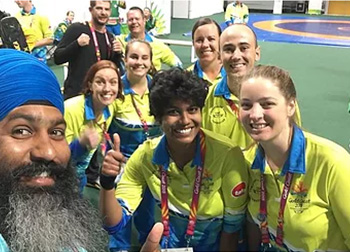 May 22

Prestons resident Amar Singh wants to change perceptions about people who wear turbans and have beards. Through the volunteer work at events such as the Cancer Council's Relay for Life fundraiser, Tough Mudder and the Commonwealth Games, he hopes to show that Sikhs are just ordinary hard working Australians. The bigotry he and others have faced have come in direct and indirect forms, including being called a terrorist. He wants to reach out to the community and also offer opportunities for people to ask questions that they "are generally reluctant to ask".
The Daily Telegraph: "Prestons resident Amar Singh gets stuck into community work"
August 8
TurbanFest has been organised by Turbans a4 Australia to encourage non-Sikhs to have their own turban tied. It is an opportunity to have a one-on-one interaction and ask questions one might otherwise be too afraid to ask about Sikhism. "In our culture, if somebody rips off your turban or touches it it's considered an insult, but here we are giving a piece of us to an outsider so we can teach them there's nothing to worry about," Mr Singh shared.
ABC, "TurbanFest aims to increase awareness and understanding of Sikh culture"
December 24
Coonamble is a remote NSW area mostly inhabited by aboriginal community. The farmers and other families are looked after by the Aboriginal Land Services and Health Council.​ Supported by COCAG, Harman Foundation, Oz Relief, local community and various school, T4A provided grocery vouchers worth $7,500 to the Aboriginal community of Coonamble. When T4A reached there, the local mayor provided the team morning tea and a brief information session about how bad the drought is. About 100 children assembled to welcome the T4A team and mingled with the touring children.
SBS, "Turbaned Santas bring cheer to drought-hit farmers in remote NSW"