Covid19 Crisis Relief
In response to the COVID-19 pandemic, Turbans 4 Australia is helping people who cannot leave their homes or are struggling financially by providing them with nutritious hot meals and hampers containing staple grocery items. The majority of our help is requested and received by the elderly, disabled, and homeless human beings. Often we extend help to those who are facing financially precarious situations due to unemployment. Recipients of help also include people with chronic health conditions who are self-isolating to protect themselves from infection and young international students, who are vulnerable as they cannot return home to their families.
Bushfire Relief
Turbans 4 Australia's dedicated volunteers delivered food, water and groceries to New South Wales' South Coast throughout the devastating 2019-2020 bushfire season.
Helping Regional Australians
Coonamble Christmas Drive
In 2018, our volunteers made the six-hour trip from Sydney to personally hand out around $5000 worth of toys, stationery, shoes and books to Coonamble's Indigenous children. We arrived just in time for Christmas, allowing the children to receive Christmas presents their families couldn't afford due to the crippling drought.
We also handed over $7500 worth of IGA Supermarket vouchers to Coonamble Aboriginal Health Service.
To carry out this project, we collaborated with fellow charities AusRelief, Care One Care All Group and the Harman Foundation.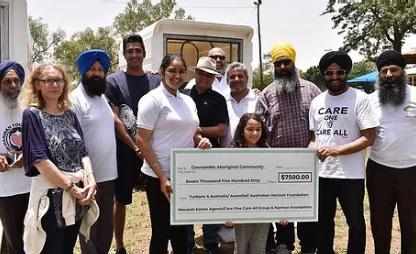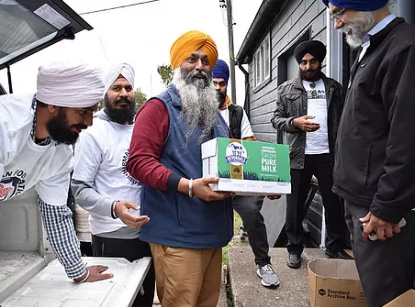 Weston Clothing Drive
In 2019, we delivered $3500 worth of groceries and 700kg of warm winter clothes to the small regional New South Wales town of Weston, helping a community facing poverty and isolation.
Water Safety
From 2008 to 2018, 27% of people who drowned in Australia were born overseas. That's a total of 794 people.
Australia's migrant and ethnic communities desperately need education about water safety to prevent any more tragic deaths. To address this risk, Turbans 4 Australia launched a Migrant Water Safety & Awareness Campaign primarily for Australia's culturally and linguistically diverse communities.
Helping Aussie Farmers
In 2015 we supported Australian farmers doing it tough, showing our farmers that the nation's ethnic communities acknowledge and support their hard work, and that as Sikhs we'll lend a helping hand to people in need of all faiths and ethnicities.
Sydney to Dubbo Grocery Run
Driving over 1100km in two days, we drove a van and trailer full of groceries to the Salvation Army in Dubbo, helping out drought-stricken farmers in rural NSW with around $3000 worth of supplies.
Sydney to Coonamble Hay Run
We drove seven semi-trailers full of hay to the NSW town of Coonamble, ensuring local farmers had enough supplies to feed their livestock despite the crippling drought. We carried out this massive project with the assistance of UK Sikh charity Khalsa Aid and three major Sydney freight companies.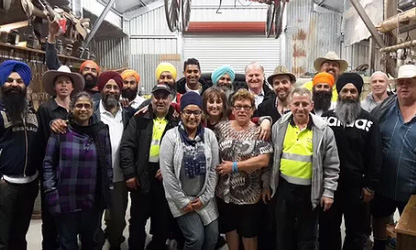 Fundraising
Turbans 4 Australia publicises important causes to All Australian community, using donations to show our support for all in need.
Disaster Relief
In 2015 we delivered much-needed supplies to the Salvation Army in central Queensland in the devastating wake of Cyclone Marcia, providing $4500 worth of water, cleaning products and other necessities to victims.
We also collected almost $4300 worth of groceries to help the people of Vanuatu in the catastrophic aftermath of Cyclone Pam.
Community Causes
In 2016 we raised $4000 for a fundraiser run by Rotary Australia to assist Wayne Greenhalgh, victim of a violent stabbing.
That same year, our volunteers helped renovate Graceades Cottage, a community hub offering support services to residents of Western Sydney's Mount Druitt. We donated and installed three new air conditioners valued at around $6000.